Today we rose with the sun, as we always do, ate a hearty breakfast, lotioned up, grabbed a kayak, and made our way to see the limestone karsts of Phang Nga Bay that have been calling to us since we arrived at Suntisook Bungalows.  The tide was pretty low and coming in, so we had to walk it out a bit before being able to hop in.  It probably took us about an hour to reach our destination, four miles according to google maps.
Unfortunately the water in Thailand is not crystal clear as in Greece, so we couldn't see much below our paddles.  We investigated around a few of the land structures and happened upon a family of monkeys doin their thang.  They were crab eating macaques, lounging in the shade of the mangroves.  One was trying to open a coconut, and when we came near he yelped at us, hugged his coconut, and scurried a bit away.  Normally we are not big fans of little primates, but these guys were lazy and mildly curious of us in our little, blue kayak.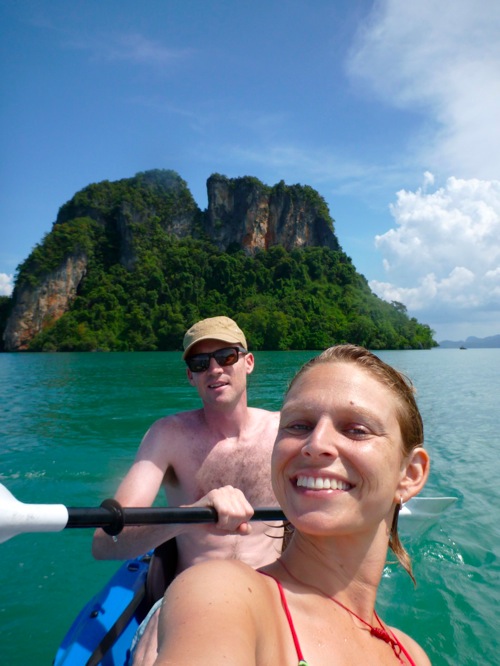 We spied a tiny beach, but when we arrived we found that so had many tour company boats.  The little beach, and shallow water surrounding it, was packed with life vest wearing tourists.  I'm not sure why someone would go into 5 foot deep water with a life jacket on, but there were at least 20 bobbing fluorescent vests. We did some exploratory laps around the little islands, and Seth climbed a little bit up one so he could jump off.  Eventually we munched on some lunch of chicken fried rice from our hotel.  Afterwards, we fed our leftovers, and some munched peanuts to the little school of fish nearby.  That was colorful fun.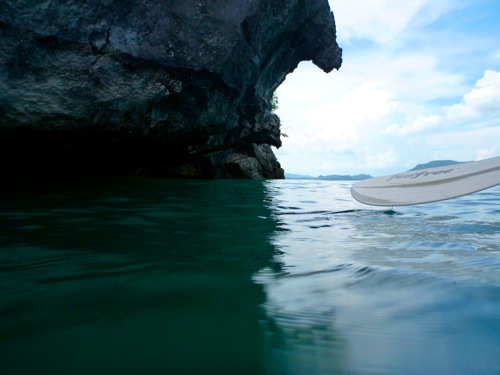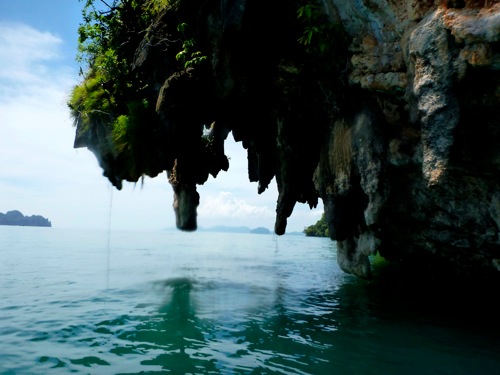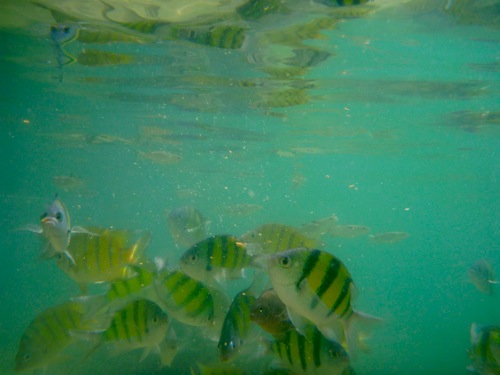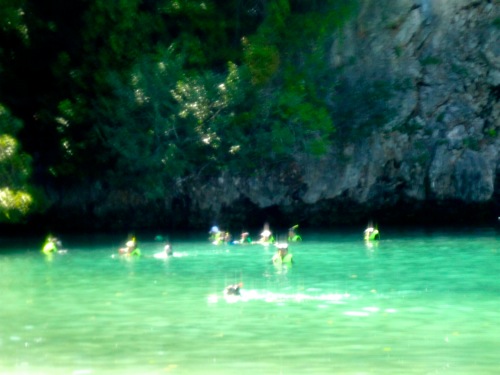 We decided it was time to head back another four miles.  We stopped by some more limestone karsts on the way and found some pretty formations and schools of fish hiding beneath.  Paddling back probably took almost twice as long, but our arms and backs are wrecked.  That was a lot of paddling, but well worth it!