It's been about a month since we've been back in the US, and we've been quite busy.
First of all, we tried to surprise Joan and Steve by changing our flight to arrive in Colorado a few days earlier than we had planned. All was going well, even extremely tight layovers where we had to sprint from one terminal gate to another, until we received a text from Joan saying, "Are you in San Francisco?" Thank you Delta for sending her an email. Grr…
We were going to stay the night in Denver and buy a car, but the weather reports told us that the skies would be dumping snow all evening, and if we waited the mountain passes would all be closed and we'd be stuck in Denver until they cleared up.  So, after flying for over 24 hours we made the 4 hour drive to Meeker.  Thank goodness for Seth. He was able to get us there in one piece through tons of snow.  When we finally arrived at Casa de Cobb in Meeker we had been traveling for a good 34 hours. Bali to Singapore, Singapore to Tokyo, Tokyo to San Francisco, San Francisco to Denver, Denver to Meeker. Man oh man, that was a really long day. 
A Cobb Christmas is always wonderful.  And having it in Colorado is an added bonus for me.  And for the past three Christmases we've had snow, so it's been beautiful.  This Christmas there was an exceptional amount of snow, and the trees were frosted with ice.  It was picturesque.  We took advantage of the snowy weather and made a point to use the snowmobile and sleds.  Seth was nice enough to dump me off the snowmobile leaving me nice and numb.  One day we attached ropes to the back of Steve's Expedition and went sledding up and down the ranch roads.  Though I'm getting better at holding on, Seth is an expert and can stay on forever.  Mochi really enjoyed chasing us on the sleds.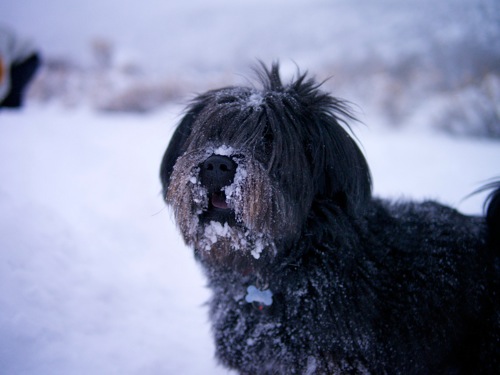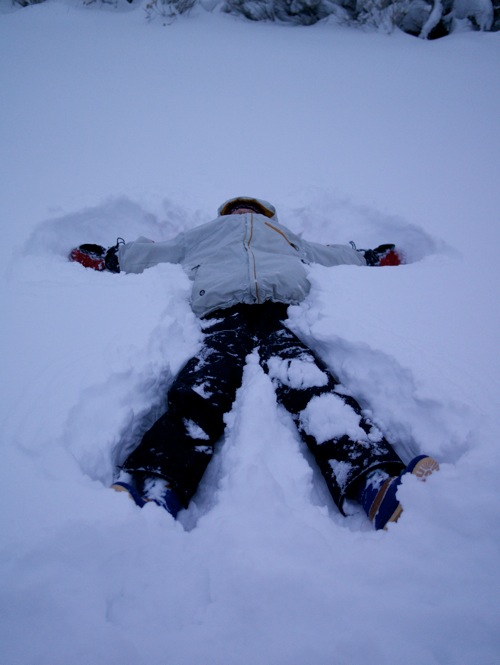 Speaking of Mochi, she was so excited to see us.  She bounced up and down and wiggled a whole bunch when we walked in the door.  She's been stuck to us ever since.  We missed her a lot.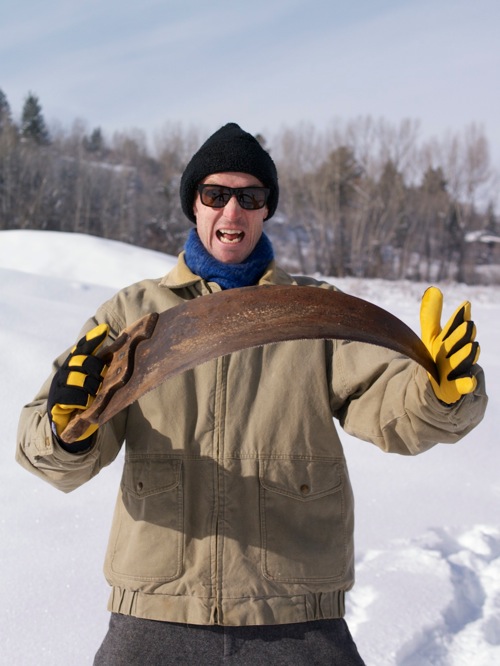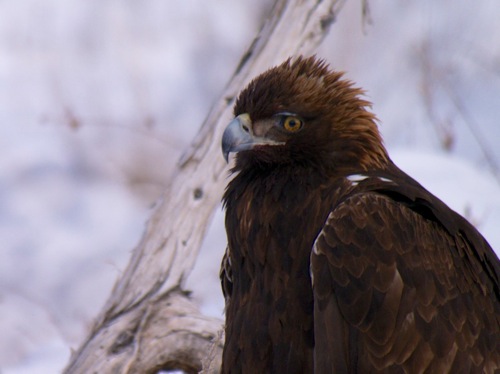 It was so nice to see Emily and Jess as well.  We cooked delicious meals and shared stories from the time apart. Seth tried his hand at some of the dishes he had learned while traveling, and they were pretty darn good.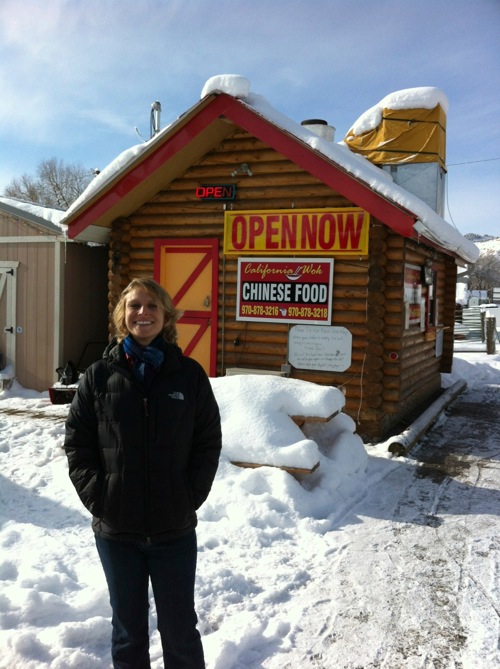 Christmas day was so much fun, and quite a relief for Seth and me.  We had been collecting gifts during the entire trip and we were finally able to give them and tell their stories.  It was so much fun.  Also, we had been collecting ornaments from almost every destination, and it was nice to put those on the tree and tell their stories as well.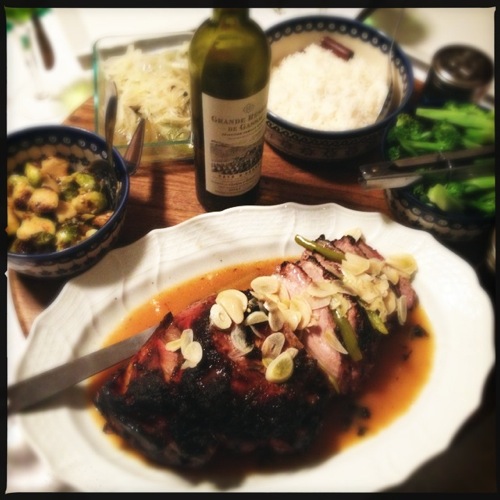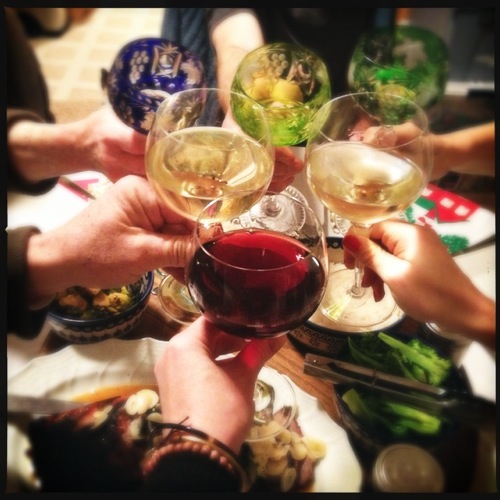 Eventually Christmas was over and Emily and Jess left.  So, it was about time that we took our leave as well, and made our way back to Los Angeles to begin to rebuild a home base.
We were driving two cars back to Los Angeles.  While in Colorado we purchased a brand spankin new Jeep Grand Cherokee, and we still had my tried and true Honda CR-V to take back as well.  The Jeep was well equipped to handle the icy and snowy conditions we faced, but the Honda had Los Angeles summer tires from 2007.  Oops.  After driving it for about 6 hours the snow and ice became really bad and we were down to about 25 mph on I70.  After I watched the car in front of me skid off the road, then back on to face me, Seth and I decided that it was time for him to drive the Honda, because he has way more snow experience.  After a few more hours of driving we broke through the snowy conditions and made it to our halfway stop.
The next day was easy driving and we made it to Los Angeles without event.  Luckily we have amazing friends, Colin and Amber, we had a place to stay in Los Angeles while we found a place to live.  It was kinda fun having room mates.  It was nice watching movies in the evenings and chit chatting in the mornings.  Mochi might have a different opinion.  Their cat Sarah was not keen on having a furry houseguest and kept Mochi on lockdown.  It was pretty funny watching Mochi stop dead in her tracks when Sarah turned a corner.
After looking at dump after overpriced dump, we finally found a winner.  We now live in a really cool place in Playa Del Rey, with delicious restaurants in walking distance, and a big outdoor patio area.  It's pretty exciting.  It's kinda weird having a set home base after being a nomad for six months.  But, it's also very comforting.  It was always strange referring to a place we'd only stay at for two nights as home.  (i.e. "Let's go see one more monastery before we go home" or "You know, that 7-11 we passed on our way home yesterday")
Being back in LA is odd.  It's exactly the same, but little things have changed.  There are still things I love about LA, like being able to find the same exact okonomiyaki sauce we had in Japan in the Japanese market on Centinela, or knowing how to get places without looking at a map or asking for directions.  But, there are things that drive me mad about LA  the same way they did in the past, like traffic, and the cost of living.  Then there are the things that, to me, are exaggerated from when I left, and will be the reason I leave.  After seeing so much of the world I have been left with a wider lens.  It leaves me frustrated with all the wrong that could easily be right.  We have so much, yet we want for more.  Being in a place like Los Angeles we can't help but want more.  And then there's the horrible supercilious conversations you overhear and wonder, "do I sound like that?" Gosh, I hope not.  I could talk for hours about how the trip has changed me and my outlook on the world, but it's not that kind of blog.
So, Seth has his marvelous job back.  He's already back to work.  I, thanks to the help of many, will be starting at a new job very soon.  I am really excited to begin my internship to become a marriage and family therapist.
My plan is to keep this blog going and to see how it evolves.  Adjusting to life after travel is interesting.