Hello all! I have to say, I'm a bit confused.  It's been a while since I've posted and I'm not sure I'm going to be completely accurate on the daily accounts of our days since.  
I left off with our excursion to Kimolos, which was fun.  The next day we decided to start off as we somehow always do, with a long, hot walk up a hill.  We decided to visit a beach that we had seen on one of our bus rides called Papafragos.  It was all turquoise water, white sand, and white rocky cliffs that bordered the beach and created natural bridges and little caves.  The bus schedule didn't fit our needs, and that's why we walked.  It was long, and hot, but doable.  We ended up picking little snacks of grapes and figs on the way from trees and vines that lined the road.  Yum!  When we finally made it to the beach the water was refreshing.  Seth sat on the beach and drank his beer while Sloane and I went for a swim.  We checked out a cave, that didn't end up being something we could enter, boo.  Then we noticed that there was a natural bridge that looked like it ended in a little private beach.  We decided to check it out.  The first bridge was cool.  But it was kinda creepy to be in the bridge's shadow, because it made it hard to see underwater.  Then there was a longer bridge that led to the little beach.  That was super dark.  And, it turned out this was where there was a suction for any and all trash.  Uck, Sloane and I swam through that.  Oh well.  We made our way back to the other side where we sat on the beach at the water's edge until we had our fill.  It was really pretty.  We, then, caught a ride back to the town.  There was no way we were walking.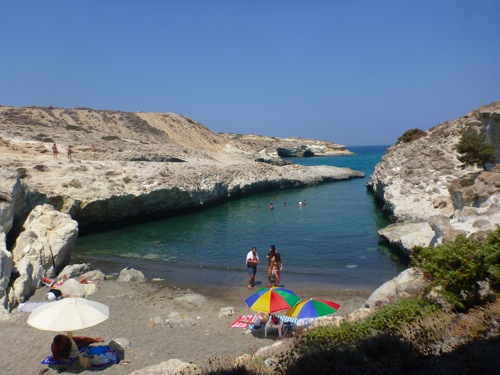 That afternoon we had lunch at another restaurant on the water.  That sounds luxurious, and it is, but they're all on the water.  There's a string of about 8 restaurants for that side of the island, and they are all on the 'road' that line the beach.  We decided to go traditional.  Sloane got a traditional baked eggplant dish, Seth ordered the lamb in lemon sauce, and I decided on musaka.  It was all really delicious, but I think I liked Seth's the best.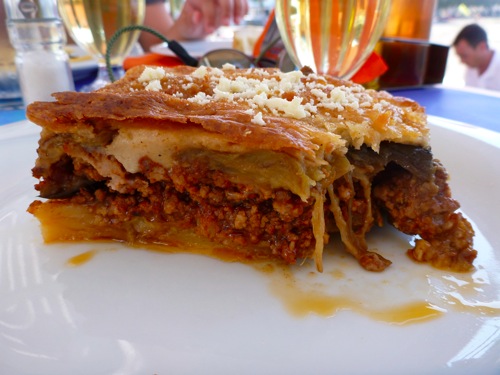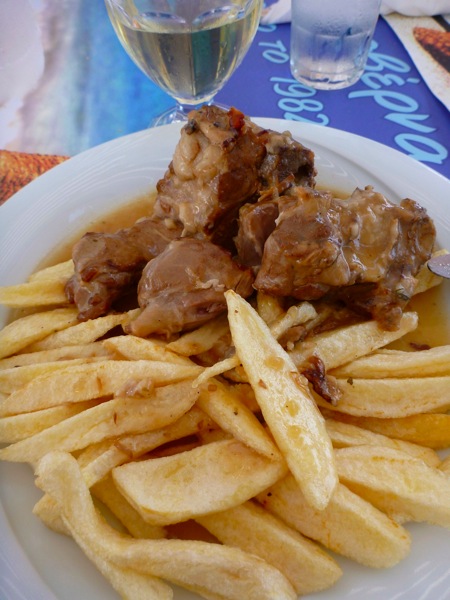 We then made our way to our regular hang out.  I think I've failed to mention that at least twice a day on Milos we went to this one restaurant to hang out and play Farkle.  We have kind of gotten to know the servers and they know us.  As a matter of fact, they have begun to predict what we will order, and are usually quite accurate.  Anyhow, I asked how to pronounce the name of the restaurant, and then what it meant.  The meaning is baby goat.  I inquired, "baby sheep?" and the waiter laughed a bit and said, "no, baby goat, the owner just has a thing with sheep".  I'm glad he found the humor as well.  But, like I said, we've gone there multiple times a day our entire stay on Milos.  They are friendly, their drinks and ice cream are good, and they automatically bring you water without charging you.  Winner!  Also, they enjoyed watching us play Farkle and ended up asking us about the game.  By the last night they were taking bets on who would win, and one even rolled for Sloane.  This turned out to be her downfall, because she was doing really well until he rolled for her.  The other server told us this was a bad idea because he was bad luck, because he was born on a Saturday (which is apparently bad luck in Greece).  
Anyhow, that afternoon was the Farkle game of ouzo.  Seth bought a bottle of ouzo and set the rules.  If you Farkle you take a shot, and if you roll 1000 you, also, take a shot.  Of course I ended up farkle-ing first and rolling 1000's like it was my job.  I ended up with 7 shots, more than the others.  Oh well.
When we woke up the next day it was super windy.  We obviously were not going to the beach, and being anywhere near sand was quite painful.  We didn't know what to do.  So, we went for a walk and checked out the waves.  Sloane won a bet where Seth dared her to sit by the edge of the rocks for 2 minutes.  She got a bit wet.  She won her ice cream. Then, we went and played Farkle.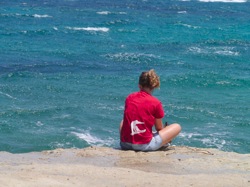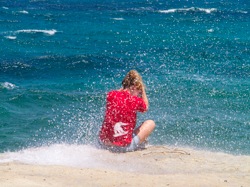 The next morning we woke up and took a ferry to Folegandros, another small Cycladic island.  The ferry was short and uneventful.  We found an apartment to rent while at the dock.  Folegandros is daunting.  Its landscape is comprised of sweeping hills that end in sheer rock cliffs overlooking the sea.  The whitewashed, cubed, buildings a stark contrast to the browns and reds of the earth.  Piled rock walls zig zag over the countryside partitioning the land for their owners, and enclosing livestock like donkeys, goats, sheep, and chickens.  The main village of Chora sits precariously on the cliffs edge.  A small town, walked from end to end in about 5 minutes or less, is a labyrinth of whites and blues, opening up here and there to small squares filled with tables shaded by trees and umbrellas.  Our first stop was for lunch.  We found a restaurant that made their own pasta and had the local dish of rabbit in red sauce.  That was a savory treat.  But, the lunch favorite was the simply named, chickpeas in the oven.  Hopefully Seth will describe this dish, or maybe have an idea of how it was prepared.  Because what I can tell you is that the sauce was thick, and creamy, but not dairy based.  It was very good.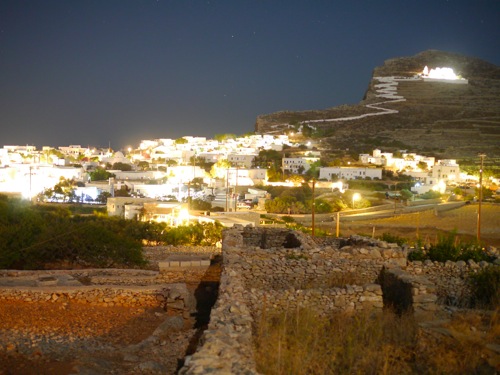 That night, while at dinner, we happened to have chosen the restaurant right next to a wedding.  So halfway through our meal music and dancing began.  It was another wonderful, unexpected surprise that we could not have planned if we had tried.  
Something I failed to mention was the wind.  Apparently Folgandros is always windy, but our first day there was exceptionally windy.  So windy, in fact, that we were in jeopardy of losing our food at dinner.  We guarded our plates as we watched chairs drift down walkways as their owners chased after them.  If you stood up it was liable to happen.  The only wind I've seen stronger has been in tropical storms.  
The next day, yesterday, we went on a boat tour of the island.  5 beaches and lunch for 28 euros.  This was good, because we had wanted to do this on Milos but it was 50 euros there.  This was a good idea because Folegandros was a bit more difficult to get around.  The boat tour was nice, but we didn't really stop at beaches per say.  It was more like we stopped off the shore to swim for about 20 minutes before we got back on the boat.  But it was really nice.  It was hot and the water was cool.  There were rocks to climb and jump off of and I learned that I have a new party trick.  Apparently I can touch the bottom in pretty deep water.  So, I began retrieving rocks for people.  Mostly Seth and Sloane, but some of the others got in on it too.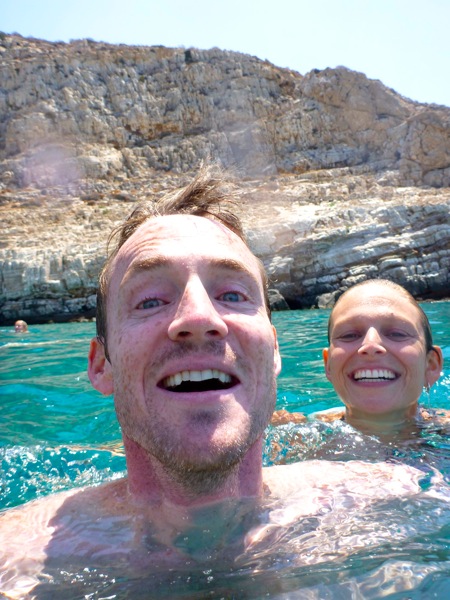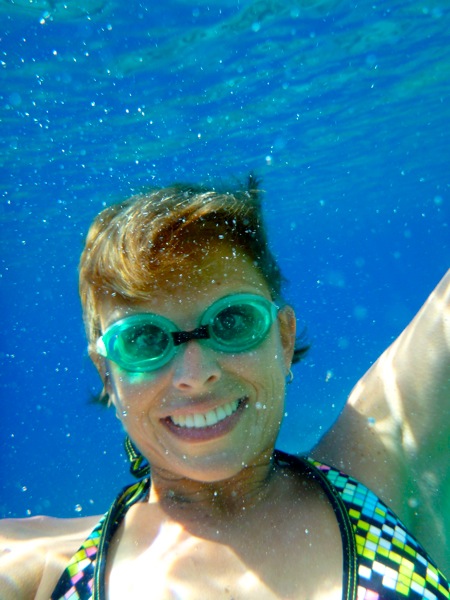 On the boat we met some people.  We met Nick, from Sydney, Australia, and we met a couple on their honeymoon, Whitney and Baptiste, from Paris, France (well, Whitney happened to be from Hawaii, but met her now husband while studying abroad in Paris. Every fathers nightmare!)  They were all very nice and we spent some time exchanging travel stories.  When we got back to port, guess what we did.  We played Farkle!!  Finally, new players!  Baptiste was the winner of having the most Farkles, while Whitney took the lead early on and won.  Totally fun.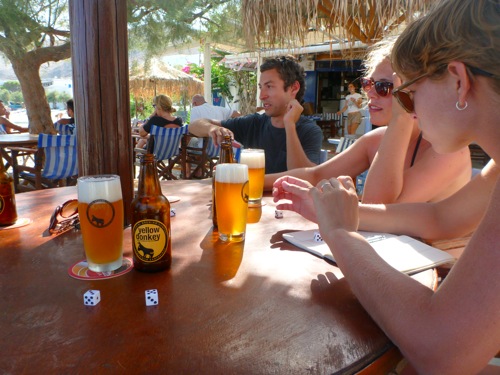 This morning we split from Sloane.  We are heading back to Athens to figure out our next move, and Sloane went to Ios, a nearby island.  It was totally fun traveling with Sloane.  But, I think she's done with traveling with us, and with traveling in general.  She seems to be looking forward to making her way home.  Sloane has 15 more days until she"ll be home, and we've been traveling for 40 days.  We will be in Turkey within the next week or so, but are not sure if we'll make a stop somewhere else before then.  Athens is a pretty good hub so we are going to figure that out while there.