We're really enjoying Kathmandu. This is our third night in Kathmandu and it feels nice to stay put, to really get to know a place.
Our first night, I mentioned finding the magic.  What I neglected to mention was my glorious hotel find, ahem…  I no longer think I can trust the opinion of TripAdvisor.  I found Hotel Silver Home on TripAdvisor and it was rated at 4.5 out of 5 stars, and the reviews mentioned large rooms, comfort, and cleanliness.  Well, the room was a nice size.  It was large enough for a twin and a double bed, a table, and a couch.  But that's where the review's reliability ends.  I couldn't get comfortable in the room due to the uncleanliness.  The carpet was gross, the bathroom was even grosser, and the sheets were definitely not clean.  The toilet seat was an abomination, and there was a hole in the wall of the bathroom that lead to nastiness.  And if that wasn't bad enough, as we were getting comfy in our travel sheets (a must while traveling) Seth found a roach trying to snuggle with him.  Yuck! So we shook out our sheets and tied the top opening in a knot.  Fire hazard, maybe, but at least it was effective in keeping out the bugs.  At the end of the day, it was really my fault.  No matter where you go, a ten dollar hotel is still a ten dollar hotel.  I had set my hopes too high on the exchange rate and put too much trust in TripAdvisor.  Never again!
The next morning we made our way to Hotel Courtyard, which is much better.  Clean and comfortable, it has it's own quiet courtyard and it's far enough away from the busy section to have a quiet night's rest.  Ahhh…
In Old Kathmandu is Durbar Square.  After walking through twisting narrow streets, lined with shops, we made our way to the sectioned off part of the town.  The asian influence in this area is quite strong.  The architecture shows it.  We meandered through countless temples, pausing to take in the sights of various depictions of gods in the various forms.  The highlight for me was seeing the living goddess of Kumari Chowk.  Yes, you heard me.  The cult of Kumari worships a living prepubescent girl who is said to be the incarnation of Taleju.  There is a selection process in which girls aged around three to five from the buddhist Shakya clan of goldsmiths are interviewed a lot like how the Tibetans choose their incarnation of the Lamas.  Apparently there are 32 auspicious signs of the Kumari which include odd things like a neck like a conch shell, and eyelashes like a cow.  Horoscope is, also, rigorously checked to see that it is not in direct conflict with that of the king (though at this point in time there is no king in Nepal anymore).  The Kumari's feet never touch the ground, and she is not allowed out except on special occasions, like festivals, where she is carried upon her throne.  Though photos are strictly forbidden, we were lucky enough to show up right as the Kumari decided to make a short appearance at one of the courtyard windows, where she looked around for about half a minute before returning inside.  This Kumari was chosen in October of 2008 at the age of three, making her about 7 years old.  It is said that when the Kumari bleeds, whether from menstruation or otherwise, the goddess's spirit leaves the body, and therefore she retires and a new Kumari is chosen.  Becoming a mere mortal can be difficult, even to find a husband, because it is said that whoever marries a Kumari will die young.  So, Seth and I saw the incarnation of a goddess.  I thought the whole situation was weird and really interesting.
On a side not, this has to be the most awesome cutout we've ever seen.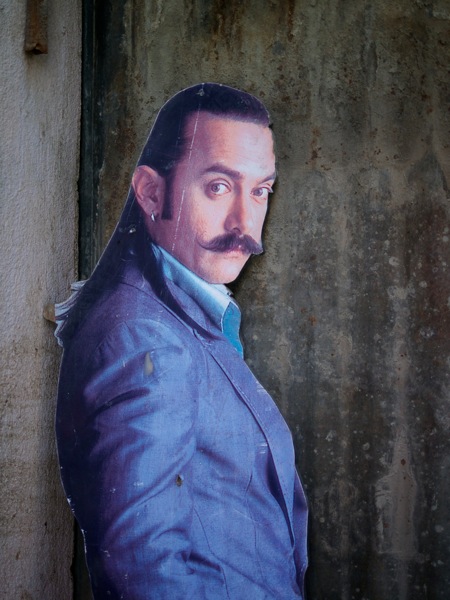 In the evening we went to a fancy shmancy restaurant in a super fancy hotel.  In this restaurant you get to choose anywhere from a six to twenty two course meal.  We opted for twelve and it was definitely too much food, but you better believe that I finished most of it.  I think the experience was way more exciting than the actual food.  Though I did like the momos, little dumplings, and the pureed fruit and yogurt dessert was good.  It was nice to be dressed up, in a country that we, so far, like, and drink wine with my husband.  
Today we did a bit of shopping, or at least browsing.  Then we went somewhere really cool.  We went to the Buddhist temple.  It is like walking into it's own little world.  There is a large domed temple in the center and people walk clockwise around the temple on the path.  There are tons of restaurants and shops selling prayer beads and other handicrafts.  The temple area and the maze of streets that spiral outwards consist of a little Tibetan community.  The architecture and everything else inside reflected that.  
We ended up finding a basement restaurant called 3D.  We had delicious Tibetan food.  Buff momos (buff = buffalo), and Seth ordered hot and sour soup, and I ordered egg thukpa (a noodle soup).  The food was really delicious.  We also ordered honey, lemon, and ginger tea, which was perfect.  We were really jonesin for some warm liquids to soothe our throats.  Kathmandu has a lot of road construction taking place right now, which causes a lot of dust to be in the air.  Today we bought face masks, but the soup and tea were needed and enjoyed.