We are really enjoying Japan, and Kyoto seems to be our favorite stop so far.  It is near mountains, and it seems to be surrounded by a lot of green space.  Though it is a city, it has more of a village like feel.  Also,it is densely populated by temples and shrines and rife with Japanese culture.  It feels less like a generic city and has more character than we've seen so far.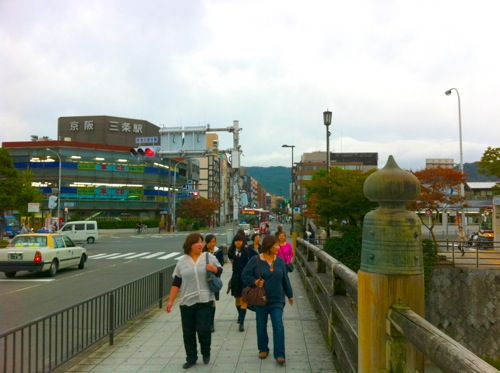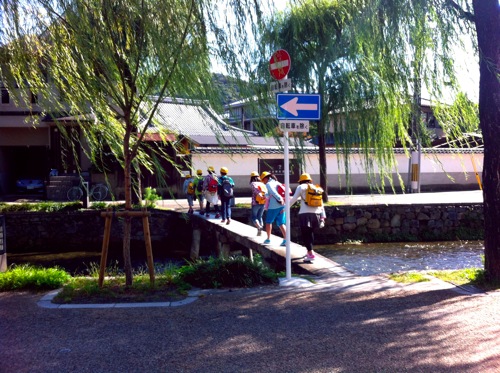 Our visit to Kyoto began with an exciting trip on the Shinkansen, more commonly known to Westerners as the Bullet Train.  The train timing is impeccable in Japan.  When the ticket says the train will arrive at 1:23, it will arrive punctually at that time.  The organization of the train stations has been, almost, comforting.  You know what to expect and it is unlikely you will become lost.  The bullet train is quite luxurious. We have the reserved seat green car, with oversized chairs that recline and have a foot rest.  They bring you a towel at the beginning of your journey and the windows are nice and clean so you can see the countryside.  And, like the name suggests, we pass by the countryside at very high speeds.  Seth found an app that calculates ground speed and we clocked a fairly constant speed of 150mph, topping out at 158mph.  That's the fastest I've gone on land.  It's pretty neat.  And the train is so smooth, you barely notice you are moving.  But, the train to Kyoto is quick and it was over shortly, only about 30 minutes including stops at other stations.  Pretty impressive.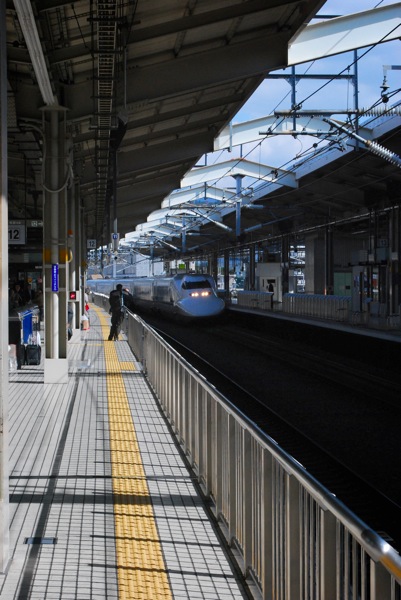 In Kyoto, Joan had found us a traditional Japanese style apartment to stay in.  It was pretty easy to find the place, even though it was tucked in an alley with no street signs.  The choked alley is packed with narrow two and three story homes with fairly short clearance, forcing us to mind our heads at every doorway.  The alley sits along a peaceful little river and is lined with quaint little bridges and visited by ducks in the morning.  Nearby is a local market where we found interesting shops and market stalls.
Heading into the downtown area of Kyoto it was interesting to find a mix of traditional Japanese architecture and stores alongside super modern buildings with brand names like Zara, Chanel, and the Gap on their storefronts.  One of our first stops was to the knife store Aritsugu, to check out the most famous Japanese knives.  Seth looked around, and was impressed, but decided to check the oldest known store in Japan first.  We flowed streets that snaked in all directions in order to find Shigeharu, the little shop of the knife maker.  The man spoke very little English, but was able to communicate enough for Seth to fall in love with two knives.  At Shigeharu he bought a santoku knife and a deba knife.  It was really neat to meet someone who had made the knives and came from a family who had been making knives for the past 500 years or so.  Pretty impressive.  After that we went back to Aritsugu to buy two more knives.  There he bought a sashimi knife and a Japanese paring knife.  For these you get to get whatever you want engraved on the knife in either Japanese Katakana characters or in English.  Seth got 'Cobb' in Katakana characters on the knives and it's pretty cool.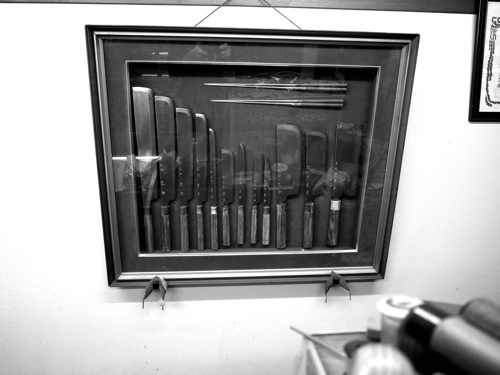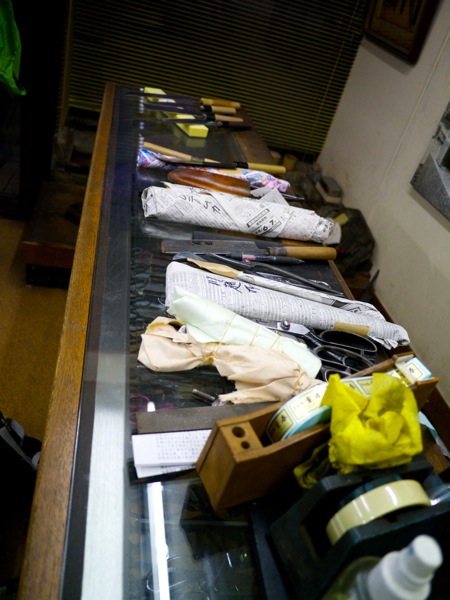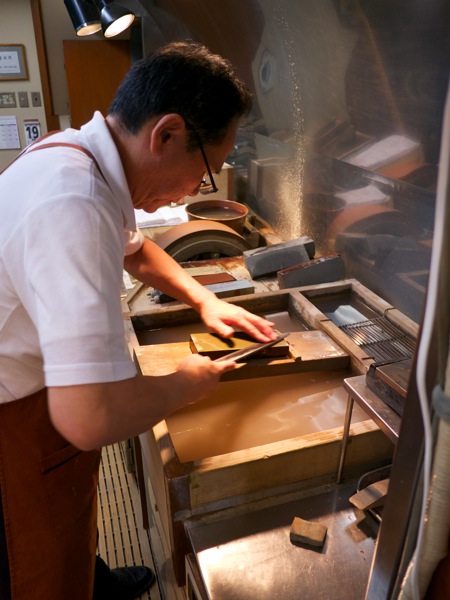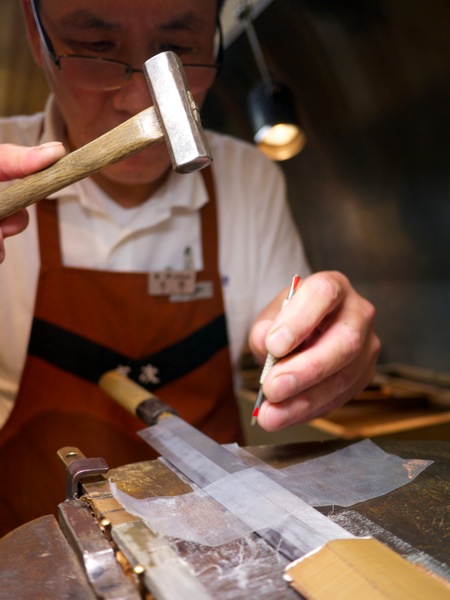 Afterwards, I was pretty excited because the plan was to have a sushi dinner.  The woman who owns the apartment recommended Musashi for good quality sushi for an affordable price.  We were surprised to see that the place was a conveyor belt sushi place.  I thought this was an American phenomena, but I guess not.  Each plate was 137 yen, which comes out to $1.72.  We ate sushi to our hearts content, or at least till our bellies were full, drinking our complimentary green tea, and it only set us back about 25 bucks.  This is really good for sushi, in the US or Japan, and it really was good quality.  Nice…
Walking around Kyoto we came across shrines in what seemed to be unusual places.  In the big shopping arcades we would turn a corner and there would be a huge shrine.  Once again, mixing of old and new. At one corner of the giant shopping area, just behind the Aritsugu shop was the Nishi marketplace, where you could find anything from quail egg stuffed baby octopus on a stick, to seasonal dried black edamame, to exquisitely delicate, hand made and painted pottery.  It was a very delicious place to walk around.  Many vendors would gesture politely to you in order to offer you a taste of their delicacies.  Everything is so good.  We snacked and bought more for later.
The next day we mostly walked around aimlessly shopping and trying to relax a little.  Though Japan has been a lot of fun, it's been really fast paced and we've been walking a lot, so it's been tiring.  We, also, didn't want to do too much sight seeing of temples and shrines before Joan and Steve joined us.  
The next day was pretty packed with transit for Seth and I.  We made our way to the train station fairly early in order to catch a train to Kobe to pick up Joan and Steve.  When we arrived at their hotel we found the gathering area for a walk a thon and spent a little bit of time watching some performers.  Eventually Joan and Steve made it back to the hotel and we found our way back to the train station to Kyoto.  Steve was feeling much better, which he was happy to show us back at Musashi.  He made a nice pile of plates to match the amount of sushi that Seth and I devoured.  We were hoping he was feeling good enough to enjoy that place, and luckily he did.  Joan was able to enjoy tempura and some veggie rolls.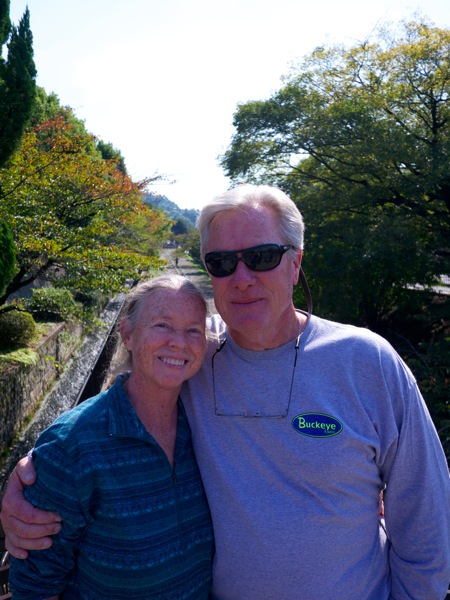 The following day's adventures included a ton of temples.  We visited the Nanzen-Ji temple complex.  The massive wood temples were quite a sight to see.  I really enjoyed the Japanese garden.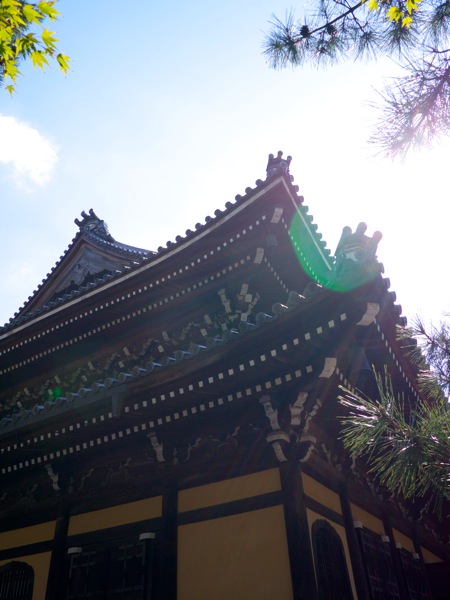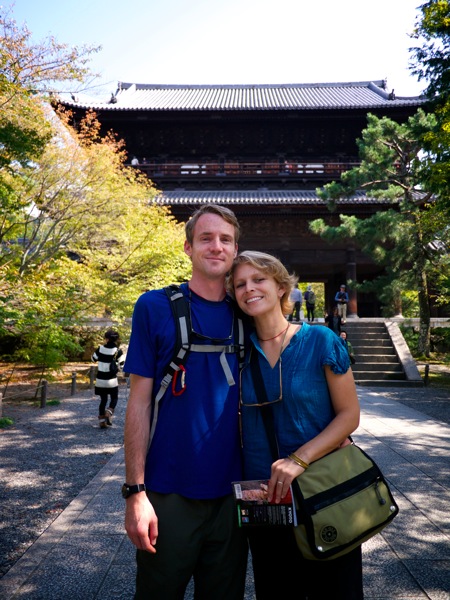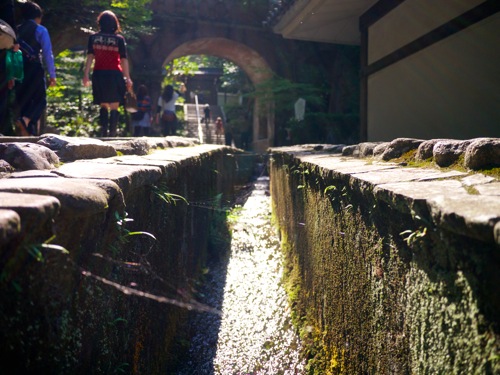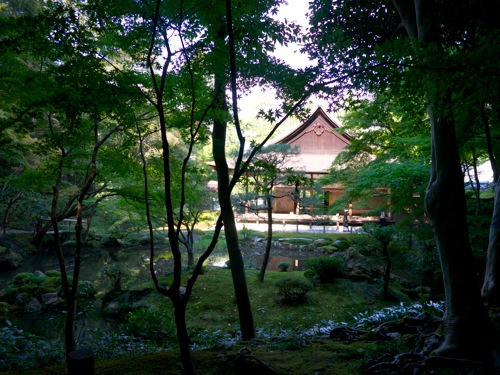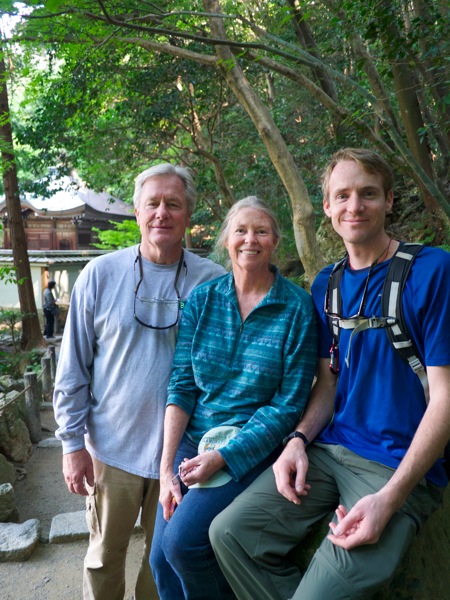 Our lunch that day was my favorite meal in Kyoto.  We found a soba place that made their own noodles.  Seth and I both asked for omakase shimas which is asking for the server to choose for you.  He pointed to a soba plate with tempura and Seth ordered his hot, while I ordered mine cold.  I don't think I've ever eaten cold soba, so this was something new for me.  When we got our plates I had to ask what exactly to do, because the noodles were submerged in a bowl of iced water.  I knew that I wasn't to eat the noodles directly from the ice water, and that I shouldn't pour the sauce into the water, and there were little veggies and toppings on my tray as well.  So, I found out that what you do is you slide all the toppings you desire into the sauce (I put all of my green onions, shallots, ginger, and bamboo shoots in, and a little bit of sesame seeds) and then you dunk your noodles into the sauce before eating them.  The noodles had the perfect consistency of being soft and firm at the same time.  The sauce was salty and the bamboo shoots and onions complimented the noodles well.  And the tempura was the best tempura I'd ever had as well.  The veggies and shrimp inside were perfectly cooked, and the tempura was crunchy, savory, and light, not greasy like in the US.  For me, it was a perfect meal.
Nearby was the giant temple Honen-Ji.  There was a major courtyard and large temples surrounding it.  The entrance led to a large street framed with colossal orange 'arcs' which look like the mathematical symbol for pi.  They were setting up for the next day when the Jidari Festival parade would finish there.  The next day we were able to watch the festival.  The Jidari Festival is a parade that depicts traditional ware and costumes throughout the Edo period.  We saw some interesting costumes and some interesting looking horses with really long, skinny legs.  There were, also, geisha in the parade.  That was a highlight for me.  There are only about 1000 geisha left in Japan, and about 800 of them live in Kyoto.  So, seeing geisha in Kyoto is just something you do.  That evening we went to a street where there are many traditional geisha tea houses so we could see some geisha making their way to appointments.  Seth, Joan, and I felt kind of stalker-ish standing outside homes, alongside a group of men with fancy cameras, waiting to get a shot of a geisha.  When it came down to it, I felt awkward and embarrassed to take pictures.  The coolest sighting occurred when we were leaving.  There were two really fancy looking geisha in the back of a black limousine like taxi.  They were beautifully done up with the white makeup and hair adornments.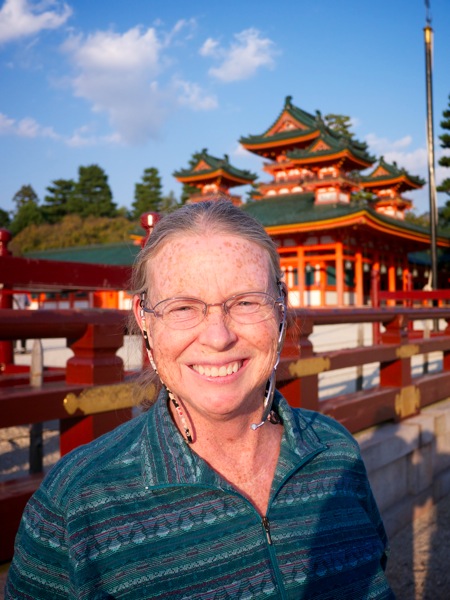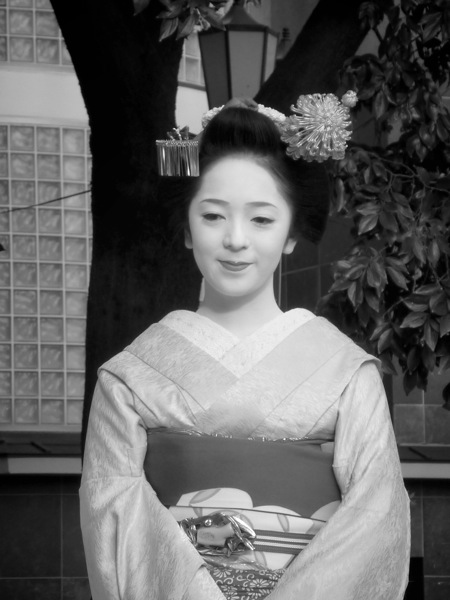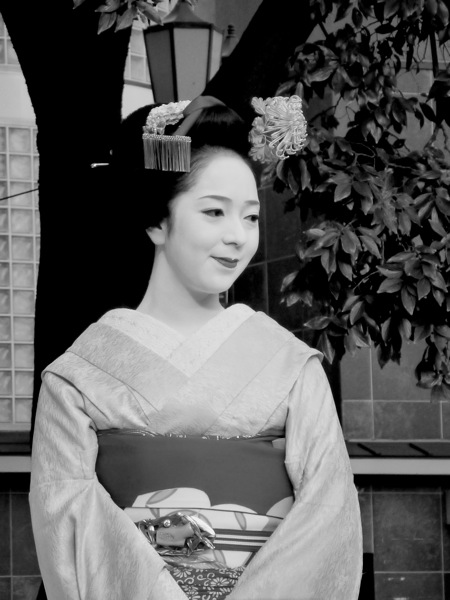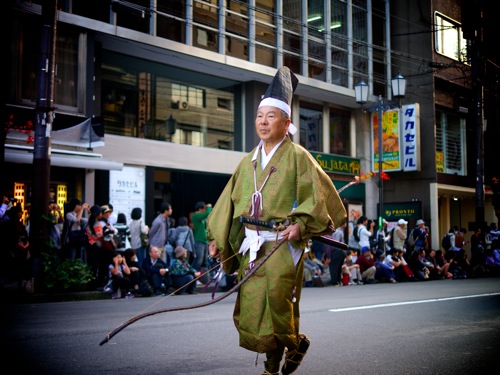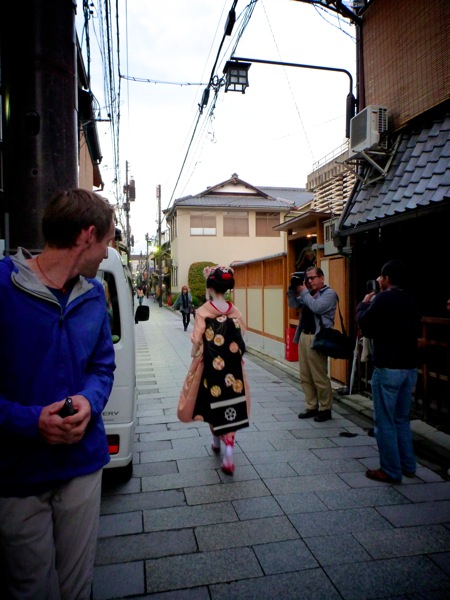 The next day was cold, cloudy, and rainy.  But, that was ok, because we had to run some boring errands anyhow.  But, nothing is truly boring when you are traveling, because even the most mundane task is different than how you do it at home.  For example, we were told that the best place to buy an extra suitcase for Joan and Steve to bring back all of our collected souvenirs and all the ones they had purchased in Japan, was at a specific mall.  While searching for a suitcase we saw all different sorts of stores that were unique from those you typically find in the US.  After we found Joan a big blue suitcase, we went back to Nishi market to have some snacks and so Steve could buy some knives.  The rest of the evening was spent organizing, packing, and returning to a restaurant around the corner to pick up some of the best gyoza we've ever had.  It was difficult to leave Kyoto, but we were excited to head to Tokyo, and on the way we would hopefully see Mount Fuji from the Shinkansen.