We woke up for our first full day in Hanoi with a knock on our neighbor's door.  Sandra has come to travel with us, and it's so exciting!  We started off our day with breakfast in our hotel, and some Vietnam planning, before we finally made our way out to see the town.
Our first stop was to Hoan Kiem Lake.  We walked around the lake before stopping at a lakeside cafe for some Vietnamese coffee.  Vietnamese coffee consists of a strong, dark coffee, with a layer of sweetened condensed milk at the bottom.  You can walk down any street in Hanoi and find people absently stirring their coffee to integrate the thick, sugary syrup.  It's delicious.  
We continued around the lake before trying to find the French quarter of Hanoi.  We're not exactly sure if we found it, but we found loads of streets filled with shops for tourists and locals alike.  One stop we made was to grab an avocado shake.  I'm not sure if it was avocado in my thick, green beverage, but it was tasty nonetheless.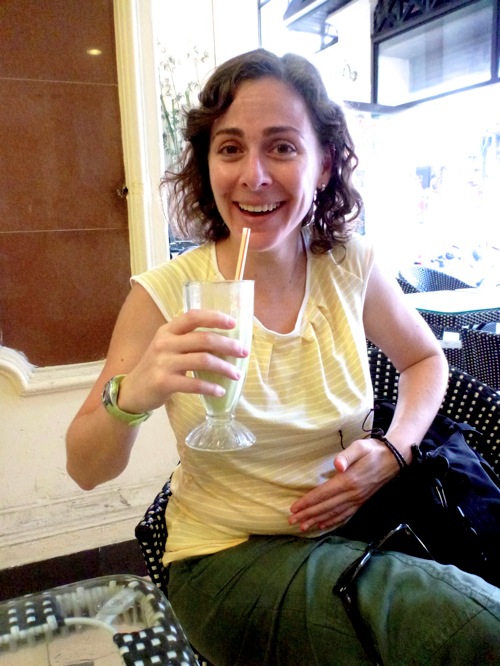 Afterwards we found the Water Puppet Theatre.  It was an interesting show where the stage was a large pool of water, and the puppets emerge from the water and are controlled by puppeteers wading offstage.  The little puppets are accompanied by live traditional music and the whole show displayed traditional ceremonies and cultural traditions of the Vietnamese people.  It was actually really interesting.
After the show, Sandra noticed that she had grown a wart during the duration of the show.  Apparently puppets cause warts.  In any case, we needed to find a pharmacy to remedy that.  We found a pharmacy and tried first in English, hand gestures, and by showing them the wart.  They had no idea what we wanted.  Our Lonely Planet phrasebook was useless (and seems to be in many situations).  We found the word for wart on google translate or something like that.  We pointed to her thumb and said 'cam' which is what it said was the word for wart.  We showed her the spelling, and she laughed.  She said, "This is pharmacy. Only sell medicine [laughs] not rice".  Awesome.  We were asking for rice.  Fun times while trying to converse with locals.  We ended up having better luck at an herbalist who gave Sandra little pink stickers to cure her ailment, and it worked.  And she was left with a pretty pink dot.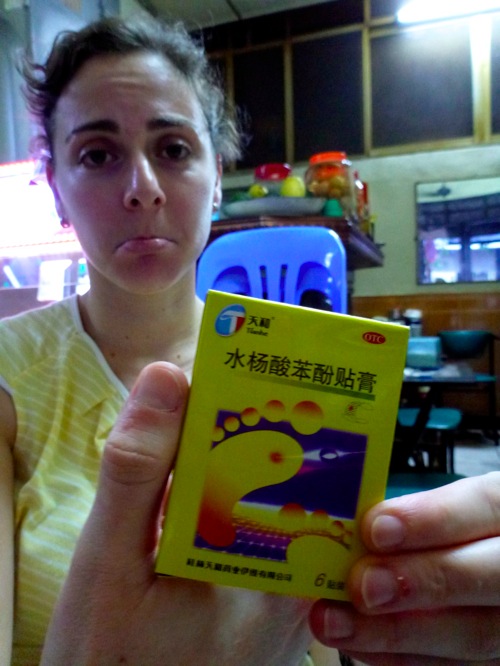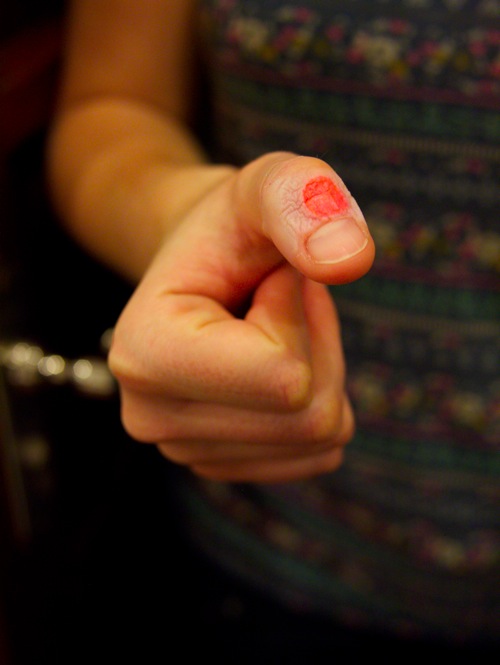 We made our way back to the hotel to freshen up, because we had a Thanksgiving dinner to attend.  Thanksgiving happens to be my favorite holiday and we found a place to enjoy a, mostly, traditional turkey dinner at a fancy French restaurant in Hanoi.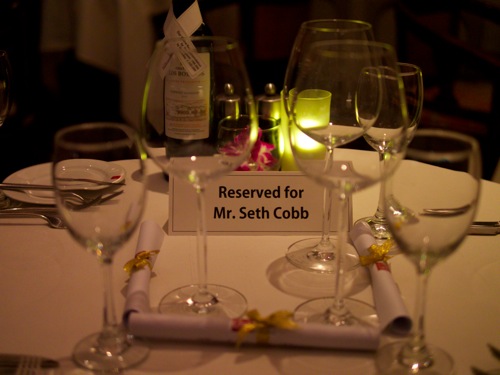 The next day we checked out the Ho Chi Minh Memorial and the one pillar pagoda.  We were kind of conflicted when we were there, because we're not exactly Ho fans.  But, then again,  we're being supportive by just entering the country, so…  Maybe if the building were prettier, less concrete slab more ornate beauty, we may have felt better about it.  And we found out that the one pillar pagoda was a smaller replica of another pagoda.  Wah wah…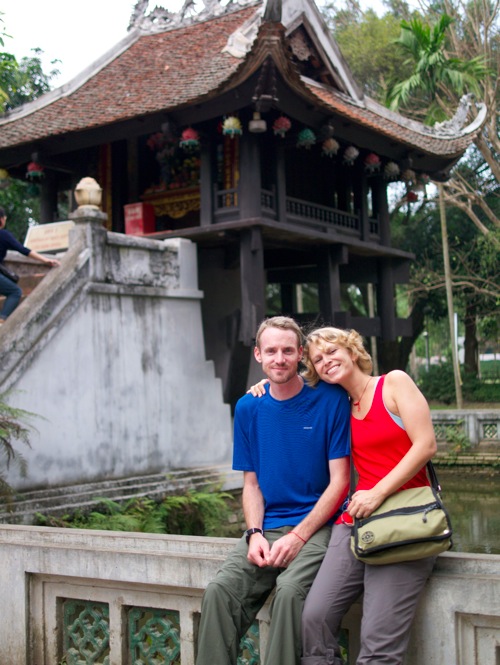 Then we went to the Temple of Literature.  The Temple of Literature was the first university to open in Vietnam.  We happened to visit on graduation day, so there were groups of students dressed nicely, taking pictures.  There were lucky turtles to rub and shrines to pay homage, and of course, the compulsory souvenir shops.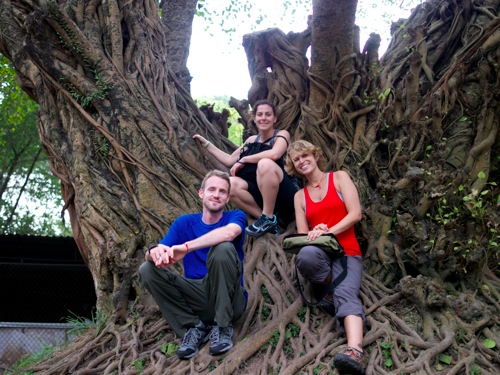 We were trying to find some Vietnamese food for lunch that, also, looked like it wouldn't send us to the hospital.  The majority of places to eat in Hanoi are street stalls, where meals are sold, cleaned, cooked, and eaten either directly on or within inches from the street, and car and foot traffic.  Needless to say, the street food does not seem as safe in Hanoi as it was in Bangkok.  We found an actual restaurant with an indoor kitchen and ordered some food and drinks.  We didn't get what we thought we ordered, and all came with the same sweet, vinegar dipping sauce.  It was all fairly bland.  
After more meandering, we decided that a movie night was in order.  The guide book boasted of a great cineplex in Hanoi, so we made our way there to see Skyfall, the new 007 flick.  I'm sure I drove Seth and Sandra crazy with all my noises of excitement and surprise.  It was like sensory overload for me, not having seen an action movie on a big screen for such a long time.  Just about everything amazed me.  Needless to say, I thoroughly enjoyed the film.
The next morning we woke up bright and early to begin our Halong Bay adventure.  Halong Bay is a UNESCO World Heritage site due to it's stunning beauty of limestone karst formations that rise vertically up from the calm turquoise water.  The hazy weather we had during our overnight stay on the bay only accentuated the eerie quality of the area, with large formations materializing through the mist.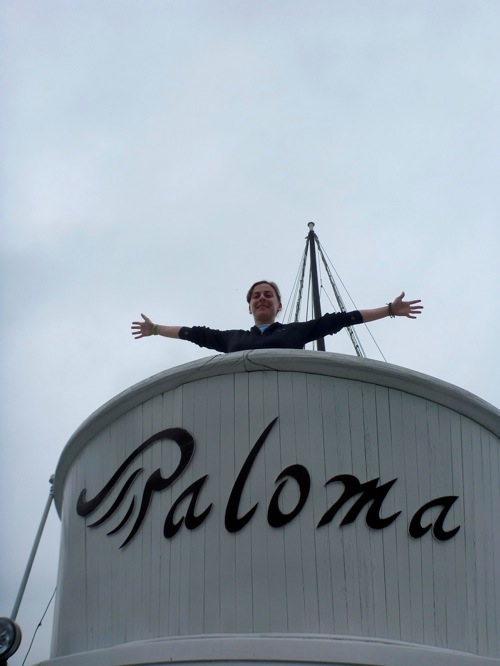 The tour company picked us up from our hotel and brought us the three hours to Halong City.  It was an extremely bumpy ride, and I think it was due more to the shocks of the minibus than the roads.  Our cabins onboard the ship were quite fancy for a boat, I thought.  The first order of business on the boat was lunch.  They served us a spread of bland, Vietnamese dishes.  I don't think Vietnamese food is for us.  Soon thereafter, we hopped onto a smaller boat to take us to the floating city.  We boarded a little rowboat with a member of the floating city, and went for a trip around the neighborhood.  It was a pretty interesting place.  Even though they live in the middle of the bay, floating on the water, they still have some modern conveniences.  We saw that most had televisions and we know that their computers had internet because our phones began picking up their signal and emails were pinging.  All of these modern comforts are powered by generators.  The main source of income for these people are from fishing, which makes sense.  Whether they caught the fish and sold them or caught them and grew them to a larger size, fishing funds this village.  There was also a pearl farm that probably makes money through tourists and their website, as well.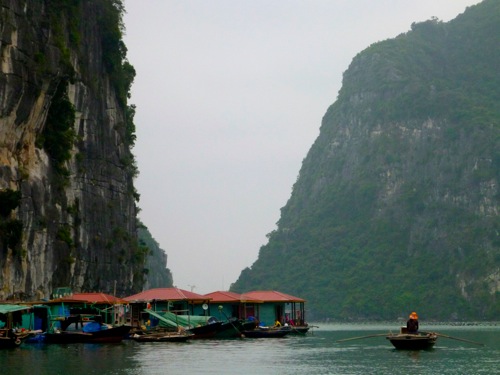 That evening we were served more mass quantities of bland Vietnamese food.  We even had a 'cooking demonstration/class' where we made spring rolls.  Not even those were good.  Maybe it's not fair that we just came from Thailand where every bite of food is packed with flavor and spices, but the food seems to be lacking any kind of seasoning.  We're still trying.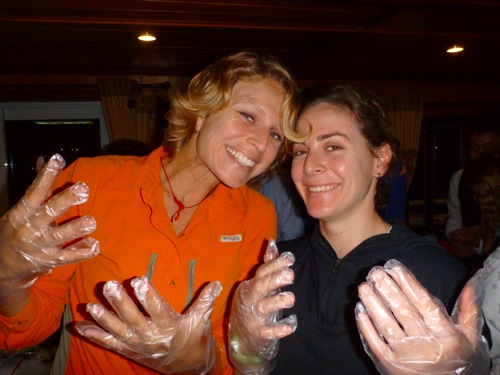 The next morning we went to Amazing Cave.  It was quite large and had interesting limestone formations, and I was amazed at how many tourists they packed into it.  If we had been there with way less people it may have been the type of amazing they were advertising.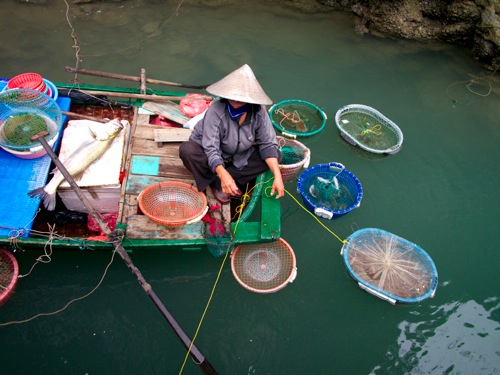 We went back to the boat for lunch.  What?  Breakfast at 8 and lunch at 10:45, too much.  The bay was beautiful with limestone formations jutting from the ocean, but the cruise seemed to highlight meals.  After we filled out our comment cards the trip seemed to be quite rushed to get us off the boat.  We were served an equally unexciting meal and rushed off the boat, only to wait in a parking lot for about 45 minutes, sitting on a curb, for our shuttle bus to take us back to Hanoi.  The bus ride home was equally as bumpy as our ride to the bay, but we made it back in one piece.  
We were not convinced that all Vietnamese food was bad, so Sandra found a recommended place online.  We all ordered a vermicelli rice noodle, greens, and pork dish and were able to add some chili vinegar and spice to help it out a bit.  It was okay.  No real wow factor though.  Dessert was a bit more interesting.  Sandra chose one with fried grapes and tapioca balls (or something like that) and I ordered a coconut cream with purple sweet potato.  Both were pretty good, and definitely were interesting.  Not a bad meal, but hoping for better.  This morning we are flying out of Hanoi and into Da Nang where we can hopefully find some better cuisine!