To say the least, Vietnam has not been our favorite country.  Hoi An and Da Nang were nice, but the food is bad, and the cities are very nondescript.  Square buildings, unexceptional landmarks, just not exciting.  The redeeming factor is that the Vietnamese people are very nice.  
We made our way to Ho Chi Minh City, formerly Saigon, expecting a modern city.  We were told by people in Hanoi that Hanoi was the old city and Ho Chi Minh was the modern city.  We were expecting it to be different.  It had less interesting little streets and shops than Hanoi, but more indoor restaurants, cleaner streets, and acceptable food hygiene.  Our first day we went to see a few sights around the city.  Our first stop was the Reunification Palace.  We were expecting a pretty building, but it turned out to be a plain old 70's style bit of architecture.  That was disappointing.  
At least we found a decent place for lunch.  Luckily, the place we found in the guidebook was closed, so we were wandering aimlessly and found a busy restaurant and pulled up some chairs.  We found Bahn My, and it was really good, for Vietnam taste standard.  But, we found it!  
There was a propaganda store that we were interested in checking out, so we found that after lunch.  It was a store with a bunch of plastic stuff.  Stuff like change purses, bags made from rice sacs, plastic magnets, and stuff, tons of stuff.  Ugh…
Then, we found the Ben Tanh Market.  This turned out to be a large indoor market with tons of vendors selling their wears.  Kind of like Ho Chi Minh City's version of a Grand Bazaar.  The interesting part about this market were the vendors.  They were so unenthusiastic about selling their goods.  They would call out to you, without even looking at you, and with no energy in their requests for you to, "please buy something".  Others were simply sleeping in their stalls, sprawled atop their goods, with something laying across their face.  It was kind of a sad place.
That night we found the movie theatre and saw Wreck It Ralph.  It was a really good movie.  But, it says something that we've seen two movies in the past week and a half while we've been in Vietnam, and they weren't even local movies.  We just don't have enough to do in these cities.  I don't know, maybe we missed something.
The next day we took a day trip to the Cu Chi Tunnels.  Upon entering the minibus for our tour, our guide commented on Seth's beautifully white skin, and eventually dubbed him with the Vietnamese name of Mr. Rao, due to Seth's current beard (Rao means hair).  Our guide was knowledgeable, friendly, and light hearted.  All necessary for where we were going.  The Cu Chi Tunnels were made in the 1940's for their war against the French and used, again, during the Vietnam and American War.  The tunnels are an elaborate labyrinth of small passageways dug underground to survive the air raid bombings.  The entire region was littered with booby traps and tunnels to evade the enemy.  The explanation video was a one sided documentary of the Vietnam and American War and told of the many war heroes who earned 'American Killer' medals of honor.  Luckily, the guide who debriefed after the video and the guide who brought us around the grounds were more well rounded in their version of the war and understood that there were two sides to every story.  They knew that the Vietnam War was not a war that the people wanted to fight.  I'm not saying that the Americans aren't to blame for mass destruction of the country, but, once again, there are two sides to every story.  Either way, it was eerie scooting through the tunnels, sometimes having to crawl, and to see the different types of booby traps was somewhat unnerving.  They were quite innovative in their methods of defense, but I kept thinking about all of the people who found their death with those traps.  And obviously, the traps were a form of defense, so…  It's difficult to talk about a war and to walk the grounds of a major war zone.  At one point during the tour there was a big tank that we were able to take photos with.  I thought it was one of the Russian tanks given to the Vietnamese to use, but Seth, more knowledgeable about such things, pointed out that it was a US tank that was probably a coffin to a few US soldiers.  That was when I decided I was done walking around the area.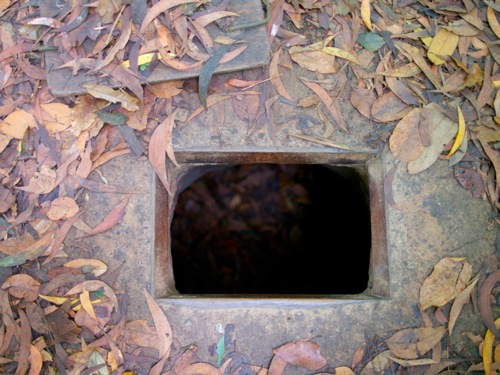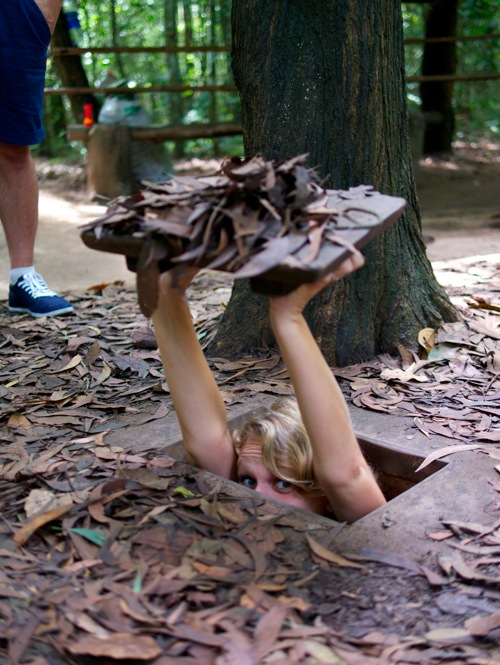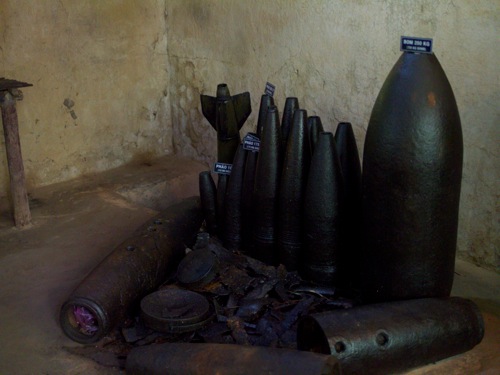 That happened before we participated in the coolest part of the tour.  We were able to shoot big guns!  We chose to shoot an M60 machine gun and an AK47.  The M60 was fun, and the AK felt very similar to Seth's AR15 at home!
That evening we went to a German Brewery that we had driven past earlier in the day.  Though the sausages were decent, the beer was large, cold, and delicious.
Afterwards we stopped by an ice cream shop, and had a treat of coconut ice cream in a coconut. Yum!
Today we fly back to Bangkok.