Good bye Africa, hello India! 
It took us 24 hours of travel to get here, but we're in New Delhi, India.  We left our beach bungalow at 10am to get to the Zanzibar airport.  We took a short flight, about a half hour or less, to Dar es Salaam, then we had to wait for our next flight, which was 5 hours away.  This might be ok if we were in an airport like DIA (Denver Airport) where we could wander through the stores aimlessly, have a decent bite to eat, or even post up at the New Belgium Brewery in the airport.  But, Dar es Salaam is a tiny airport. There's 3 to 4 tiny shops that have the exact same items, and a restaurant that looked questionable and was severely overpriced, like the stores.  It was actually kinda funny.  We found little Kirkland packets of nuts for sale, but they were like $5, and not worth it.  A small pack of gum was $3.  So we sat and listened to our audio book.
Finally we took the 3 hour flight to Ethiopia.  We had another 5 hours to kill in that airport.  We had originally thought we were going to be there during the day, and that we would check in, leave our bags, and venture out into Ethiopia for lunch or dinner.  But, it was from 7pm to midnight, so we skipped that idea.  This airport was weird.  The shops were filled with random designer labels, but it all seemed fishy, like they were counterfeit, or they had "fallen off a truck".  Also, the shelves were fairly empty, there'd be a huge shelf with two or three items on it.  And there were TONS of cigarettes.  Apparently cigarettes from China are a hot commodity, because they were expensive, $50 a carton, while Marlboro were $16.
It was finally time to head to our gate.  When the man called for passengers with children, needing special assistance, and business class members, the entire group of people in the waiting area bum rushed the entrance.  And they began to enter without being let in.  Eventually we made our way up, but the people were so pushy and then so close behind us that I kind of wish we had waited for everyone else to board first.  But we needed to assure that we had overhead luggage space. They would push up against you, and when you turned your head they would apologize, but do it again and again.  Just before the plane there was a guy trying to check everyone's ticket, and we watched him turn away a passenger and realize that he might have been letting people on the plane who shouldn't have been let on.  Hmm.  I'm pretty sure there were some stow aways on that flight.
The flight was about 6 hours, after the delay, but it was not a bad flight.  We dosed ourselves with our respective knock out drugs and were able to sleep a bit.  Aside from the fact that I was awoken by people walking by and bumping into me with elbows and carts, we were awoken in the middle of the night for a meal.  I think we were in a daze because we sleepily ate a meal at about 2:30 in the morning.  Totally unnecessary, but we were zoned out.  Seth barely remembered anything the next day.
The plane landed and the airport in India was much more vigilant about the passengers on the plane.  They cattle blocked the exit and checked everyone's ticket stub, and if they couldn't find it, they had to wait.  I thought that was awesome.
We were picked up by someone from our hotel and we made our way into Delhi.  We landed on a Sunday morning, so traffic wasn't like it normally is.  We've heard a lot about Delhi traffic.  And, maybe it's because we just spent a few weeks in Africa, but so far New Delhi is not like we expected.  It is much 'nicer' than we expected.  But, I'm also going to assume that we are in the nicer part of the city.  When I looked up our area it seems to be the Silverlake of New Delhi.  But, when I say this, don't picture a street lined with pretty store fronts and welcoming restaurants.  I said it is the Silverlake of New Delhi.  We've already encountered areas that require ten gallon lungs to hold your breath.
Our hotel, aside from our romantic anniversary night, is the nicest hotel we've been in.  Amarya Haveli is a cute boutique B&B where we were offered their delicious homemade iced tea upon arrival.  Our room is the Jaipur room, so it is themed pink, with a pink temple painted on the wall.  And the bathroom is glorious.  Aside from the fact that you have to keep your mouth glued shut in the shower (we're in India) it is amazing, with water pressure and extremely hot water.  And we had the best night sleep, probably since we moved out of our apartment in May.  AC, hot water, clean, and a comfy bed.  Awesome.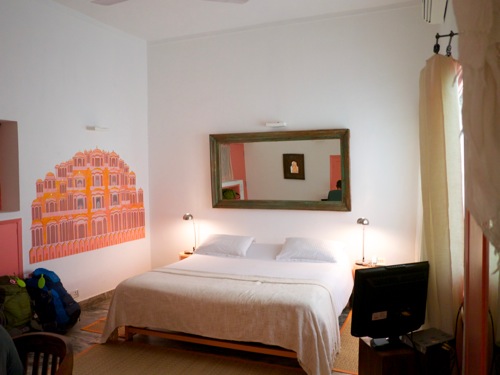 We ventured out for a walk to a park nearby.  We ended up finding Deer Park, where they actually have deer in an enclosure.  There was a lady there who was feeding them yellow rice and naan.  I have a feeling that she wasn't supposed to be doing that.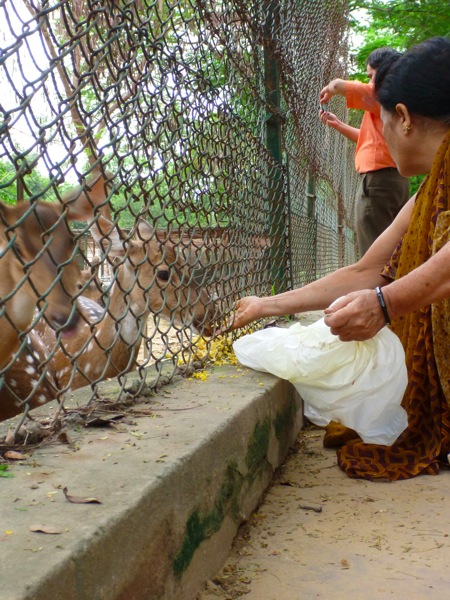 Eventually we made our way to a recommended restaurant called Park Baluchi (which I bet means deer park), where we would have our first Indian meal.  We ordered two beers, two vegetarian dishes, and two types of bread. The beer was Kingfisher and the waiter presented them to each of us like one would a bottle of wine.  It was interesting.  Then there was a well packed ball of ricotta like cheese in something similar to a vodka sauce (i.e. tomato and cream).  That was really good.  It had lots of spices and a bit of a kick. Yum! Then there was a spinach based dish with string beans, corn and potatoes.  That was, also, very good.  We accompanied those with regular naan and kolcha, which is what I believe to be India's version of pizza.  It was a flat bread with some chopped tomatoes, spices and cheese.  All very good.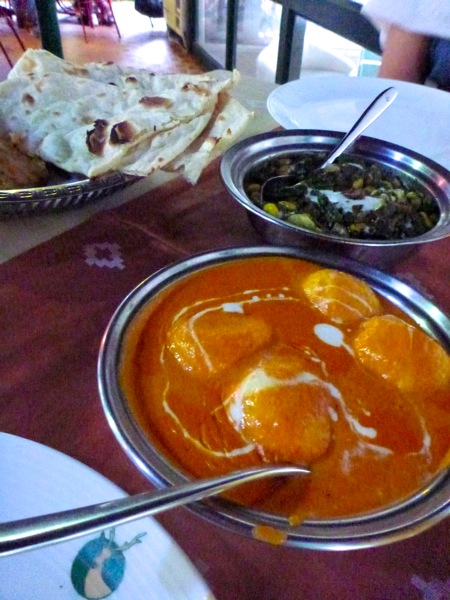 We made our way back to our hotel and ordered some masala chai tea to keep ourselves awake so that we wouldn't fall asleep too early.  The tea was delicious. And so was our night's sleep. Aahhh…