We're back in Bangkok, for the last time.  We decided to try another hotel near Khao San Road, and it was a disaster.  Lucky House advertised itself as being clean and cheap.  It was only cheap.  But, it definitely wasn't the worst hovel we've stayed in, and it was still in a convenient location.  
Our first day was cut short, due to the massive amount of traffic getting to the hotel from the airport.  Even though Thailand doesn't have an acting king anymore, they still hold their former king close to their hearts.  Apparently his birthday is December 5th and they celebrate his birthday for the entire month.  This, being the first weekend of the month, is some sort of holiday where people were trying to get home early or get out of town to celebrate, which meant unbearable, stand still traffic for miles (or kilometers).
After checking in to our hovel, we walked around, showing Sandra all that is Khao San Road.  We, then, made our way to MBK, a huge shopping mall.  Not only was MBK huge, but it was connected by a skywalk to two or three other shopping complexes, a science center, and a center for the arts.  It was immense.  Sandra used the time to purchase a new camera, bargaining her way into a pretty sweet deal.
We ended up on a round about ride by a tuk tuk driver who tricked us into going to a restaurant that would give him a kickback, when we had asked to go to another area.  He lied.  Oh well. But, it took us at least an hour to find a taxi to take us back to our hotel area of Khao San.  Once again, they were either trying to charge us way too much, or simply refusing to take us there.  Work ethics are different here.
On our way back to the hotel, we ended up stopping at what turned out to be a huge night market with carnival rides, games and attractions like a 'freak show' (with no actual freaks) and a haunted house.  It was filled to the brim with people, so after some time of shuffling through the crowds, we caught a tuk tuk back to Khao San Road.  We decided that the perfect way to end the evening was to get a massage.  What better way to end the day, than with a massage.
The following day we ended up on a market marathon.  The last time we tried to visit the Tailing Chan Floating Market we learned, the hard way, that it was only opened on the weekend.  So, we made our way to the riverside market.  It was wonderful.  Stalls selling gardening supplies, fruit, and food lined the street down to the river where a floating dock served as a food court.  Little wooded boats were lined up around the dock, serving up fresh seafood like grilled prawns, scallops, and even chicken satay.  All was delicious and the relaxed ambiance served for a very enjoyable morning.  We chose this market specifically for this reason.  When you tell a taxi driver you want to go to the Tailing Chan Floating Market they tell you about how they will take you to a better, bigger floating market.  Those are jam packed with tourists, and maybe some locals, and I hear it can be a hectic, stressful experience.  We leisurely made our way through the market without being hassled by anyone, and most of the other patrons were locals, with a foreigner sprinkled here and there.  It was really nice.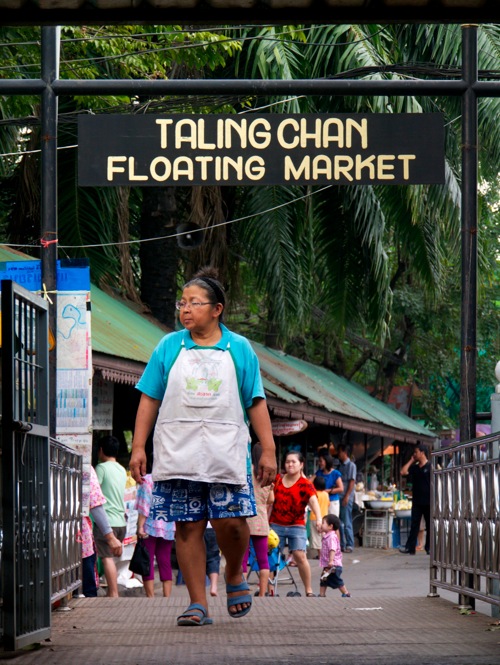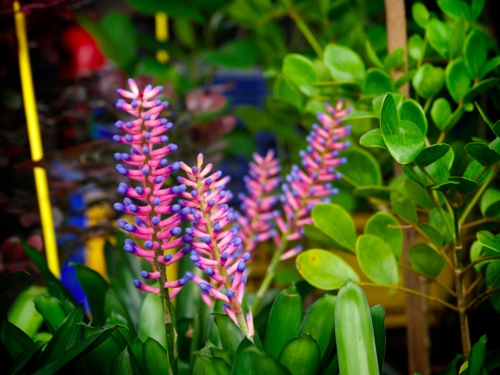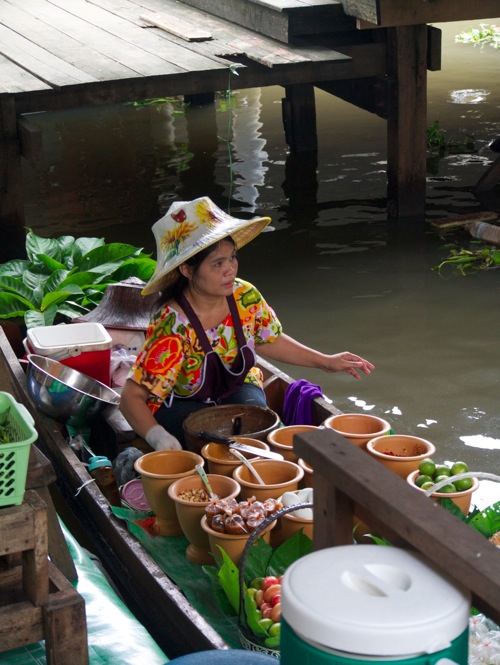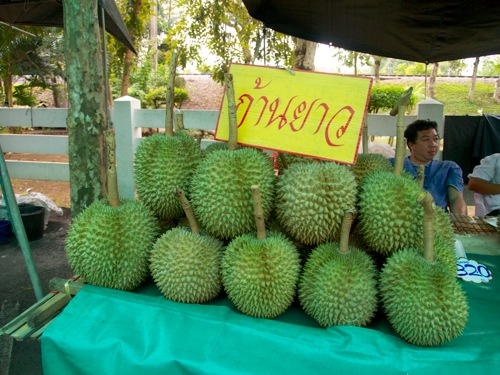 Afterwards, we caught a cab to Chinatown.  We walked around the streets revisiting their electronics section, in particular.
We decided that one more market was in order, so we caught a tuk tuk to the Skytrain station in order to arrive at the Chatuchak Weekend Market, the largest weekend market in Thailand.  This place was massive.  Hundreds of stalls selling 'I love Bangkok' tees, Thai silk tissue box covers and ties, street food treats, and even a western store selling 10 gallon hats and cowboy boots.  
It had been a long day and we were ready for our last meal in Thailand before heading back to our hotel.