Da Nang is a beach city.  The waves steadily roll to the coast and the lazy ambiance rolls along as well.  Our first night in Da Nang we went for a walk along the beach.  Locals smiled and waved, and were excited to practice their English by saying, "hello".  The feel of the area was instantly different from the moment we set foot in the airport.  Even driving from the airport to the hotel, we noticed the change in cleanliness.  The streets were clean, and the restaurants set forth an appearance of good hygene. Eventually we decided that dinner was in order.  There was an enticing entry in our guidebook with mention of house brewed Czech style beer and local cuisine.  How could we resist?  So, we hopped in a cab and made our way to the Tulip Brewery and Restaurant.  The golden steins of cold, frothy beer were exactly what we desired after a long, hot beach walk.  We were, also, able to sample local cuisine.  We ordered plates like a seafood salad that you eat on shrimp rice crackers, a whole seasoned chicken that you dunk into a spice mixture with lime and green glutinous rice, and a seafood and mushroom dish with noodles.  All were fairly tasty, but went well with our giant mugs of beer, unless you are Sandra and I'd say giant mug of beer.  After our long day of travel, heat, dinner, and beer we called it a night, and took advantage of our satellite TV and cushy beds.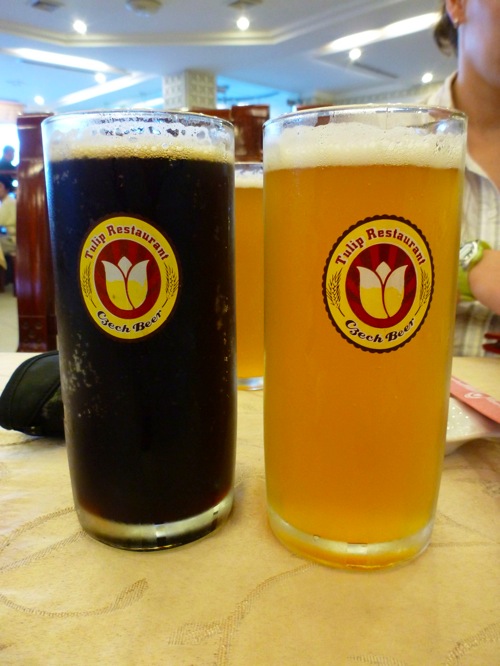 Our next day, we began with a trip to the Marble Mountains, which holds caves and temples.  There are shrines set to the budda set within the mountain and the light that came through on our cloudy day proved to create an eerie light and a marvelous sight.  This cave was way more amazing than Amazing Cave on Halong Bay.  And there were barely any tourists to obscure the view, mainly locals with offerings.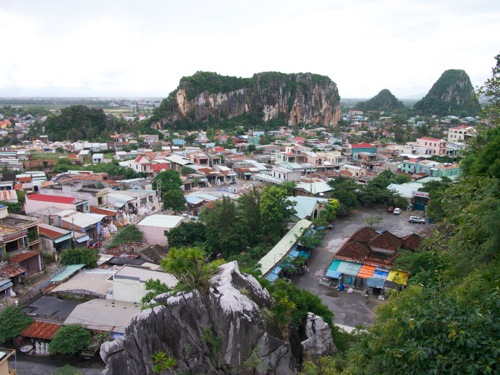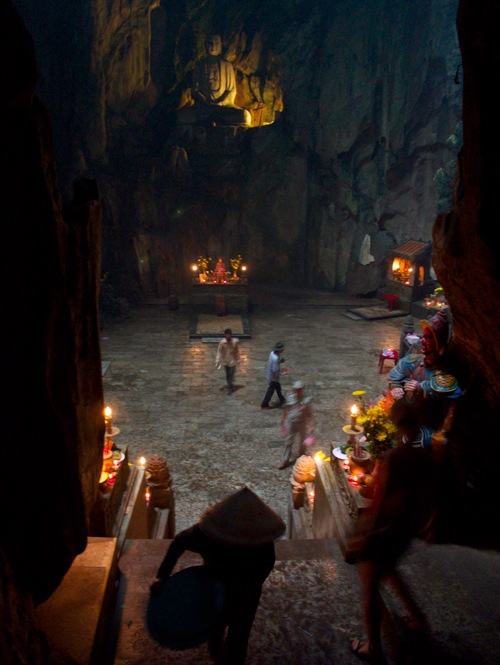 We, then, hopped in a car to spend the day in the UNESCO World Heritage site of Hoi An Old Town.  The streets that radiate out from the central market are filled with handicraft shops, boutiques, and cafes.  The architecture is inspired by the Chinese and Japanese who used to frequent this once bustling port town.  Now it booms with the assistance of a steady tourist crowd, but there is a healthy mix of locals to remind you that you are still in Vietnam.  It is a quaint little town that lit up in the evening.  Situated along a river, Hoi An made a perfect place to experience our first full moon festival of our trip.  Children and old women sold paper lanterns that you could lower into the water for a small price.  The evening was lit up by the large, bright moon, the colorful lanterns in storefronts, and the flames of lanterns illuminating the river way.  Outside shops you could find offerings of rice, fake money, fruit, alcohol, cigarrettes and anything else that may please the gods.  
While in Hoi An we tried the local dish of Cao Lao, thick noodles of yellow color said to get their flavor from the ash and water from the local well.  Served with pork, veggies, and a bit of broth, these noodles are best when accompanied by some chili sauce.  It was a step up from some of the other Vietnamese food we've had. We were happy to have some new flavors, but are still not too impressed by the Vietnamese food.  There were, also, some wontons and crab, but the best food of the day occurred i the evening.  We were searching for bahn my only to find that it only means sandwich, and weren't impressed with our options, when we came across a line of food stalls that looked intriguing.  A man approached us and explained to us as we walked that the food stalls were all the same.  A group of 35 families work together in this line of stalls.  They all have the same menu and take turns pulling in customers.  It sounded like a really neat idea, and fell into the category of what we'd expect from a socialist nation, so we pulled up a bench and dug in.  We all ordered what he had recommended.  We began with a seafood, tomato, mango, and onion salad atop a crispy, rice cracker (think ceviche or nachos).  For our main we ordered shrimp, lemongrass, and onion mixture, wrapped in banana leaves and steamed, served with the spice and lime mixture and rice.  All washed down with some good local beer and it was the best meal we'd had, yet.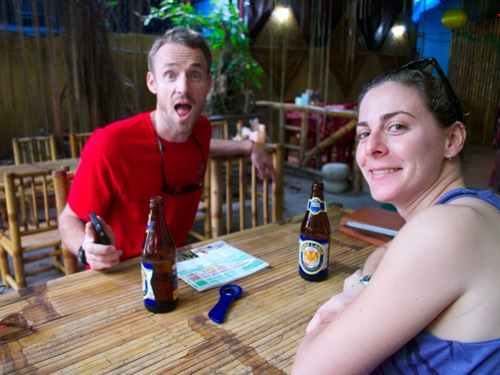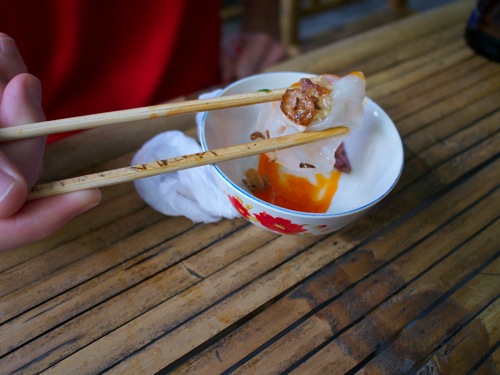 We had a successful day in Hoi An of local cuisine, shopping and even a festival.  Now we're on our way to the modern metropolis of Ho Chi Minh City, formerly known as Saigon.