Up early and off to Khao Sok national park, we were picked up by the tour company at around 8 am and by 9 am we were in the jungle. Our guide Ja was a humorous, ex park ranger who joked with us while leading us through the park trails. We spotted some monkeys (langurs), a stick bug, squirrels, and many birds. After an hour hike we stopped for a brief swim in the river. The water was cool, refreshing and filled with carp, needle fish and catfish of all sizes. We stopped for lunch and had a rather bland tourist version of massaman curry and some fried chicken. After lunch was a bamboo raft trip down the Khao Sok river.  We stopped to have tea boiled in rungs of bamboo, served in bamboo cups.  As our tea was simmering one of the raft captains took us for a little stroll through the jungle nearby.  We saw a giant durian tree with young spiky durian.  It's no surprise that these fruit can be fatal if one falls from the tree.  They can become about the size of a basketball and is encrusted in hard, sharp spikes.  We, then came upon some rubber trees.  Berkley was intrigued, because the little bowls collecting rubber were mostly full, with a plump white ball.  Our raft man didn't speak much English, but with some miming he told her it was ok to touch it.  It was springy and wet, just as you would expect fresh rubber to feel.  What she didn't expect was the smell.  Sadly I learned this too late, as everybody had already followed suit and touched the rubber.  It turns out that rubber smells absolutely abhorrent.  The smell clung to our fingers throughout the rest of the day, despite many washing attempts.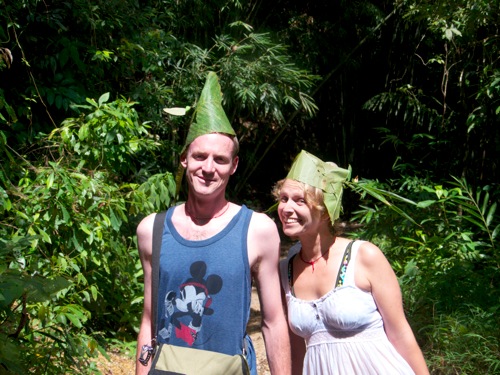 As we were floating down the lazy river on our bamboo raft, I spied a rope swing.  I swung like Tarzan off the random dangling rope. Berkley shot some pretty great video of me swinging on the rope. Almost as amazing as my dads video of me catching a huge tarpon on the beach in mexico.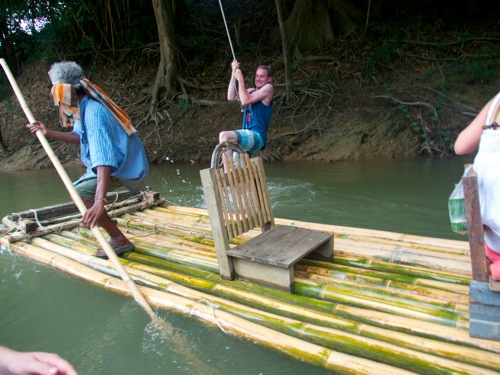 We continued on, and our raft captain pointed out a mangrove snake coiled up in a tree.  Pretty neat.  Quite soon after it began to rain thick, heavy rain.  Within minutes we were drenched to the bone.  It sure put the rain in rainforest.